Invest your time, regain your health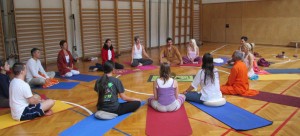 Yoga therapy has amazing healing effect in several types of acute and chronic diseases. In our yoga studio, we provide yogic therapeutic method such as Yogic six cleansing, Yogic food, Yogic fasting, Yogic postures according to the physical ailments, Pranayama, Deep Relaxation, Mudra Therapy, Reiki Healing. In short, the participants will learn time tested ways of healthy living in yoga therapy session.
Therapeutic Yoga
As a treatment or healing purpose we can heal the different kinds of disease from yoga therapy like backpain, survical, abdominal problem, anxiety, depression, stress, sinus, sinusitis, Asthma, gout, Arthritis and many more.
(But you have to give your time for us we will give you a good health)
Our best effort will be to materialize the slogan of Chetana Yoga.
Duration: 10 Days (for chronic illness, days can be more)
Therapeutic Cost: $500
Lodging/food and visit to the spiritual and natural places or city tour are excluded. Contact us for more details.